South East Air Conditioning - Air Conditioning East Sussex
Air Conditioning Installation
Air Conditioning Maintenance & Repair
Air Conditioning Testing & Certification
Ready, for when you need us
Sussex Air Conditioning - Energy Efficient Domestic and Commercial Solutions
At AC South we provide excellent and affordable air conditioning services to homes and businesses throughout East Sussex, Brighton and Hove, and Lewes towns. We have over 25 years of air conditioning experience providing a high level of service to the local area which is why our customers choose AC South for all of their air conditioning requirements.
We offer a full range of affordable air conditioning services including:
Installation, service and repairs for all domestic and commercial air conditioners
Air conditioning health check
Design advice for which system you need and the best placement
Air conditioning gas leaks
Testing and certification (we will also organise and arrange the necessary specialists and checks)
We use Daikin, Samsung, Mitsubishi Electric, Fujitsu, Panasonic and more
Quality Air Conditioning Installation & Design
Many of our air conditioning units provide different levels of customisation depending on your needs and budget. Ranging from the colours of the visible units to integrate with smart home devices. 
Our custom design service can provide designs and covers to match the style of the room. Matt, gloss, wood design, custom colours to match your office, living room, or even the kid's room.
Most of our air conditioning installations can provide:
A++ energy efficient rating
Timers and controllers for each room
Whisper quiet
Smart controls and voice assistants
Pollen filters
Sound levels kept to a minimum for outdoor units
Heat pumps can lessen your electricity usage for heating by around 50% compared to electric resistance heating, such as baseboard heaters.
Air Conditioning Installation, Servicing & Repair
We offer professional, cost-effective solutions to keep your air conditioning working properly.
It's important to maintain your air conditioning with regular servicing. It ensures the smooth running of your workplace and is often cheaper than repairing an air conditioning system that hasn't been serviced regularly.
We are able to offer an equipment maintenance contract for air conditioning systems installed by us and systems installed by others for your peace of mind for product waranties. This includes:
Regular servicing & testing
Detailed checklist
Full-service engineers
Risk Assessments
Normal daytime hours
Leak checking & prevention
24/7 availability
100% emergency response times met
You may have specialised equipment within your workplace that needs specialised testing and compliance. We will organise and arrange the necessary specialists and checks for you so you can get on with your business. An example is a common check such as the TM44 Form for refrigerant requires an accredited inspector.
Domestic Air Conditioning Services & Information
In our domestic AC solutions, we can install the air conditioning unit in many locations throughout your home, and some without the need to redecorate or retrofit the building works of the room. You can also get connected and control your air conditioning system with ease via smart home apps and devices such as Alexa and Google Home. They can go into your living room, bedroom, kitchen, kids room, loft, home office, garage, conservatory and more!
Our expert and friendly team will help you design and install the best and most economical air conditioning system for your workplace. Our prices are competitive and we always aim to install units that adhere to the latest environmentally efficient trends. 
More and more industries such as schools and further education are installing air conditioning systems and units to help provide a more comfortable environment for their students. 
Commercial Air Conditioning Services & Information
Types of Air Conditioning Systems for East Sussex HVAC
Wall-mounted air conditioners are the most commonly installed units in residential environments due to their cheaper cost and easier installation. They can be installed easily high onto the wall.
Floor or Low Wall-mounted:
Floor mounted air conditioners work similarly to the Wall Mounted air conditioners but are instead placed at floor level and can look like a radiator. This can be a good option for you if you want to keep the unit out of sight or if you are placing it on a low-level wall such as in a conservatory.
Ducted (Concealed ceiling units)
Ducted air conditioning units are for those who want a truly integrated and hidden design throughout your home or business. Typically, they are recommended to be installed during the build phase of your home as they require the installation of ducting throughout your home and access to the void in the loft space.
Common Air Conditioning questions in Worthing
For most wall or floor mounted units we can install them within one visit to the property. We'll chat beforehand to work out your needs and find the best design to suit your room.
Like all mechanical and electrical units, sometimes things can go wrong or suddenly not work as expected. It's a good idea to have a routine inspection (once a year) by an AC engineer to test and check all of the systems. If there is no cool air flowing, refrigerant or water leaking or even if the unit is turning off and on again repeatedly, get in contact with your local air conditioning companies.
AC South's Excellent Customer Service & Expert Advice
We pride ourselves on our excellent customer service. From the very first point of contact with you we will help, advise and walk you through any parts of the air conditioning installation process. We're a friendly bunch and are always happy to answer any questions that you may have. Call our East Sussex office today on: 01273 740 312 or click here to contact us.
AC South is the air conditioning company you can rely on.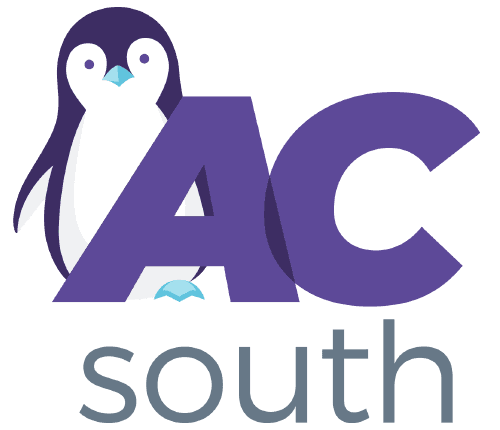 Call our East Sussex office today: